In honor of the legend himself, it is my pleasure to present 2018's MLK or Black Rapper?
Rules: Below is a list of quotes. Players get 1 point for correctly guessing whether the quote was said by Martin Luther King Jr. or a black rapper. An additional point is granted if the player can correctly guess the rapper's name. Scroll slowly.
Enjoy the motivation and inspiration these wonderful people offer.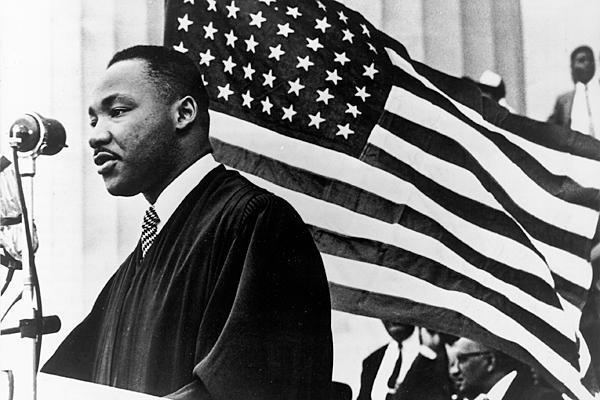 1. "My intent has always been to spread positivity."
2. "
Nothing pains some people more than having to think."
3. "The function of education is to teach one to think intensively and to think critically."
4. "L
ightning makes no sound until it strikes."
5. "For a dreamer, night's the only time of day."
6. "Stay true to who you are 'cause nothing is impossible."
7. "Staying in a hopeless and miserable situation doesn't make you loyal, it just makes you miserable."
8. "We are not makers of history. We are made by history."
9. "Be loyal to your own piece of mind."
10. "It's about helping others, and it's about just getting them to just open their mind, and that's it."
11. "I hate racism altogether, but when it's directed at my friends, my anger levels skyrocket."
12. "Sometimes if you're lucky, someone comes into your life who'll take up a place in your heart that no one else can fill, someone who's tighter than a twin, more with you than your own shadow, who gets deeper under your skin than your own blood and bones."
13. "Bikinis, zucchinis, martinis. No weenies."
14. It's okay to be you, and you cannot stand out and fit in at the same time, so pick one."
15. "I made a pact that there wouldn't be another human on the earth that didn't know what I believed or what I stood for."
16. "I

[am] compelled to carry the gospel of freedom beyond my own home town."
17. "What else can one do when he is alone in a narrow jail cell, other than write long letters, think long thoughts and pray long prayers?"
18. "You might not have a car or a big gold chain, stay true to yourself and things will change."
19. "Be your own leader, be your own self, step out of my shadows and be your own person."
20. "Too many people spend money they haven't earned to buy things they don't want to impress people they don't like."
21. "How can sky be the limit when there is footprints on the moon."
22. "

We may have all come on different ships, but we're in the same boat now."
23. "This is what I represent, here's my message: peace, love, positivity. Follow your dreams."
24. "I ain't scared of the fall. I have felt the ground before."
25. "I looked at where we are in the world and realized that millions of people listen to my voice, and I do have a voice."
BONUS ROUND (FOR ALL THE POINTS)

26. "I have a dream my four little children will one day live in a nation where they will not be judged by the color of their skin, but by the content of their character."